Black Forest Organic Sour Heads – Review
Clearly, Black Forest wants to duke it out with Sour Patch Kids with their Sour Heads product (already kind of a ripoff name if you think about it).
They don't explicitly say it on the packaging, but they do call the candy a "sour n sweet soft and chewy candy". Those who know sour candy like I do know that "first they're sour, then they're sweet" is the tagline for the aforementioned Sour Patch Kids. On first look, their packaging too implies that Black Forest is trying to take a bite out of Sour Patch.

However, Black Forest's Sour Heads do have something going for it that Sour Patch Kids does not – all of its ingredients are organic. Just look at the package – it's on there twice just in case you missed it!
Here's what Sour Heads contain:
Ingredients: Organic Tapioca Syrup, Organic Cane Sugar, Organic Potato Starch, Organic Lemon Juice Concentrate, Cornstarch, Citric Acid, Natural Flavors, Color (Black Carrot Juice, Carrot Juice, Turmeric)
Pretty good huh? It's good to read the ingredients of your candy and actually know what is going into it. Another cool thing I noticed? No corn syrup, which is pretty common in pretty much any other sour candy you see at the grocery store.
How do they compare?
While the Sour Heads are gummier than Sour Patch Kids, they make up for it those organic ingredients mentioned above. That being said, if this were a taste test, I would still probably have to go with Sour Patch Kids. I think that Sour Heads are more what the consumer is looking for in today's candy world, but the flavors don't pop much.
I think that with time, we could see Sour Heads get pretty popular. I just wish they weren't so blatantly ripping off Sour Patch in their branding. Then again, everyone is does gummy bears and sour worms, so what's the harm in adding kids into the mix?
It would be cool if they could be what they are – a good, organic sour candy. The pack I started with was their regular assorted pack (with flavors orange, lime, lemon, raspberry and fruit punch). Do those sound familiar?
Sour Heads even come in a watermelon flavor, which is obviously Sour Patch's second most popular candy. C'mon now…
The conclusion:
All in all, I would recommend this candy for sweet tooths out there looking for an organic alternative. Otherwise, I would stick with the classics! An OM.
Let me know what you think of Sour Heads in the comments! And if you are looking to still try, get them here:
Fun packaging touch:
The barcode is forest-shaped! See? They are creative. Why not make Sour Heads the Black Forest Organic Sour Trees or something like that?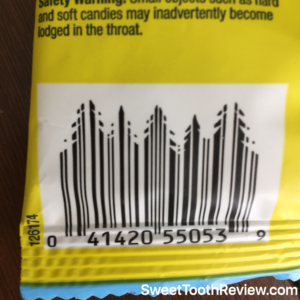 Summary
Reviewer
Review Date
Reviewed Item
Black Forest Organic Sour Heads
Author Rating