Chocolate is one of the few delicacies that you can never refuse. They can help you curb hunger and help resolve your mood swings; such is their take on your soul and taste buds. Here, we discuss all about truffle chocolate!
What is a truffle chocolate?
Truffle chocolate happens to be a miracle in the world of chocolates. It is small, ball-sized, and is made of chocolates inside out. Due to the mass of chocolates that each bite contains, it may be called a chocolate bomb.
The term truffle has been taken from a Latin word meaning lump. Due to its spherical or circular shape, it has been named after mushrooms with the same name. However, to purely relate these chocolates to mushrooms, they were predominantly shaped to look like rough lumps. But time has shaped their edges and given them a more circular shape.
These truffle mushrooms grow under big trees such as Oak, Poplar, and Hazel. They are considered one of the favorite foods of pigs. However, they are a huge part of savory cuisine. But it isn't easy to locate them since the ones who can mostly eat them away. This is why nowadays, dogs are trained to sniff them out.
Although these chocolates get their name from the truffle mushrooms, they do not taste anything like them. Many people who savor truffles have pointed out that no preparation tastes similar. All kinds of truffles taste different due to their specific types and kinds of ingredients.
Some truffle lovers think that the taste of truffle chocolate truly depends upon their environment or geographical location. One can also guess the taste of a truffle according to its color. For example, a darker truffle tends to have a stronger flavor than a lighter one. No matter how we choose to define their taste, we just can't! All kinds of truffle chocolates taste heavenly and deserve our love.
Well, be rest assured, your favorite truffle chocolates do not contain any portion of this underground fungus. Your beloved truffle chocolates are only chocolates, toppings, ganache, and a lot of love!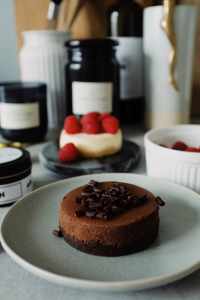 Chocolate truffle cake recipe
Chocolate truffle cake is the epitome of love personified. Being a perfect mash of truffles and chocolate cake, its flavor is absolutely out of this world. Let us now see what you need to prepare it.
What do you need?
For the cake
Two and a half cups of milk
One cup of butter
Eight ounces of semi-sweet chocolate
Two teaspoons of vanilla extract
One teaspoon of baking soda
Half a teaspoon of salt
Two cups of sugar
Two and two-thirds cups of flour
Three eggs
Chocolate sprinkles
For the filling
Six tablespoons of butter
Four ounces of bittersweet chocolate
Two and a half cups of fine sugar
Half a cup of heavy whipping cream
For the ganache
Ten ounces of semi-sweet chocolate
Two-third cup of heavy whipping cream
Preparation:
Place a large pan on medium to low heat. Pour butter and melt it. Then add milk to the same and let it warm. Keep stirring the milk.
Chop the chocolate and add it to the milk. Then stir in slowly and keep stirring until you get a smooth consistency.
Then remove the mixture from the heat and keep it aside.
Set the oven preheating to 325°. In a large bowl, mix eggs and vanilla extract and beat it well. Gradually pour and mix the chocolate mixture and mix well.
In another bowl, sieve the flour, salt, sugar, and baking soda. Then combine it with the chocolate mixture and mix well. Make sure the batter has no lumps and has a thin consistency.
Grease a baking pan and line it with parchment paper. Pour the batter into the bowl and set it to bake. Bake it for 25 to 30 minutes. You may need to bake for a few minutes more, depending upon how well it has been cooked.
To ensure it is well cooked, insert a toothpick in the cake. If it comes out clean, your cake is ready. Cool the cake for 10 to 15 minutes before removing it from the pan.
Meanwhile, prepare the filling.
Pour chopped chocolate and butter into a small pan. Make sure to put the pan on low heat. Mix the molten mixture well. Then add the heavy whipping cream and add fine sugar to it. Blend the mixture well to get a fluffy constituency.
To prepare the ganache, you need to add the cream to a pan and bring it to a boil. Make sure not to boil the cream. Pour the chopped chocolate into the warm cream and stir until it is smooth. Turn off the heat and keep stirring the mixture occasionally. Keep repeating this until the ganache gets a spreading consistency.
Remove the cake from the baking pan. Use a knife or floss to cut the cake in horizontal layers.
Place a layer of cake and spread the filling. Keep repeating this step. Once done, put the filling aside and pour the ganache on the cake. Make sure to cover the sides as well. Pour the chocolate sprinkles on the cake. Apply it on the sides as well. For decoration, you may get as creative as you want to be.
Make sure to store it in the refrigerator. The cake has a shelf life of about 10 days.
The nutritional content of 1 slice
[table id=39 /]
Best chocolate truffles
We know you love to devour a plate full of chocolate truffles. But here are some of the best chocolate truffles that you need your taste buds to relish. These are as follows.
[table id=37 /]
What are chocolate truffles made of?
Although chocolate truffles have several recipes, they were predominantly made out of butter, chocolate, and cream. Initially, these chocolatey sweets had a core of ganache and a coat of nuts or sprinkles.
With the introduction of newer varieties, changes in the confectionery became visible.
Some of the varieties include:
[table id=38 /]
Belgian chocolate truffles recipe
Although all chocolate truffles taste delicious, Belgian chocolate truffles are a class apart. Their delicious taste will make you go gaga.
What do you need?
75 grams of unsalted butter
30 ml of whipping cream (must contain at least 40% fat)
200 grams chocolate
5 ml of vanilla extract
10 to 15 ml of Rum/Brandy (optional)
150 grams of chocolate (coating)
Cocoa powder, dried coconut flakes, sprinkles, and crushed nuts (decoration)
Preparation:
Melt 200g chocolate by using a double boiler method. You need to boil water in a container and place a glass bowl on it in this method. In this glass bowl, you pour the chocolate and allow it to melt. This procedure helps chocolate melt without burning it.
Gently stir the mixture to make sure the chocolate has formed a smooth and runny consistency. Now keep it aside and let it cool. However, during this procedure, make sure to keep water from mixing with the chocolate.
Pour softened and not melted butter into a bowl. Slowly mix the butter with a blender. Make sure to increase the speed of the blender gradually. This will allow the butter to become creamy and fluffy. Also, note the changing color of the butter. It would help if you stopped whisking it when it has turned ivory or white.
Pour whipping cream and whisk until combined. Then pour half of the melted chocolate and whisk on low speed. When it blends well, add the next half and mix well.
Add vanilla extract, liquor (optional) and mix well again. Make sure the mixture is smooth and fluffy. Otherwise, you may need to beat it for a while longer.
Transfer the mixture to a piping bag. Take a baking dish and line it with aluminum foil or parchment paper. Pipe little amounts of the chocolate on the paper. Now put the dish into the refrigerator for at least 30 minutes.
Now grease your palms with a little oil or butter. Then take each of the little chocolates and shape them into balls. Use your fingertips to make sure they have the perfect shape.
After they are shaped, put them back into the refrigerator for about 20 minutes.
By the time your chocolate balls are set, prepare the remaining chocolate for coating.
Melt the chocolate and pour out your ingredients for decorating the truffles.
Take your chocolate balls out of the refrigerator and stick a toothpick in each. Dip your chocolate balls in the melted chocolate and place them on a plate.
Now put your truffles back in the refrigerator for about 10 minutes to let it set. Take them out again and finish your truffles by either rolling them in cocoa powder or sprinkling toppings of your choice.
Serve and enjoy!
You can store these truffles in a container and place them in the refrigerator. They are good to go for about two weeks. Make sure to keep them at room temperature for half an hour before serving.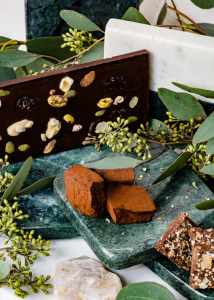 Chocolate truffles with condensed milk
Also known as Brazilian truffles, these truffles are yummy and very easy to make.
What do you need?
400 grams of sweetened condensed milk
Two tablespoons of butter
One tablespoon of butter (greasing)
40 grams of cocoa powder
chocolate sprinkles (decoration)
Preparation:
Place a pan on medium to low heat and melt two tablespoons of butter in it.
Add the condensed milk to the pot and gently stir.
After about five minutes, add the cocoa powder to the mixture and keep stirring.
After ten minutes, you'll notice the mixture separating from the edges of the pan.
Turn off the heat and pour the mixture on a greased plate. Place this mixture in the refrigerator and let it sit for at least two hours.
Remove the mixture from the refrigerator. Grease your palms and roll them into tiny balls. Then roll these balls onto the sprinkles.
Serve and enjoy!
It will help if you store these truffles in a refrigerator. This will keep them from spoiling sooner.
We hope you try out these amazing truffle recipes and devour your favorite chocolate confectionery. We also hope this piece solved all your queries regarding truffle chocolates. So although truffles are a fungus, it really isn't. Or is it?