I found Starburst Retro in a display case along with the Limited Edition Carnival Skittles at the Dollar Tree. They were tucked away in a corner, so I nearly walked out without seeing them. The cashier probably wondered why I got went through the line twice, both times to buy just candy.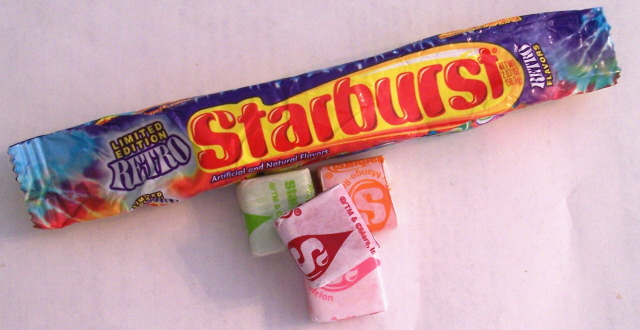 The packaging on the Starburst Retro is a nice tie-dye motif, and the individual wrappers are white with colored print instead of the other way around. The flavor names are cute and clever, if rather corny.
Starburst Retro flavors:
Hey Mango-rena! – The exclamation mark is key, of course. These didn't taste like mango at all. I got more of a sweet cantaloupe/punch taste or something.
Optimus Lime – This was my favorite flavor. Unsurprising, since I love citrus flavored candies, and the Green Slushy was my favorite Carnival Skittle flavor. Not quite as complex as the Green Slushy Carnival Skittle, but still quite enjoyable. With a bright and tart lime taste, it reminded me of a lime Skittle, but better, maybe because it's a bigger candy. And while we're on the subject, check out this cool Optimus Prime cake.
Psychideli-melon – Quite faithful artificial watermelon candy flavor, like a watermelon Jolly Rancher.
Disco Berry : I guess they ran out of clever names when it came to this one. It tastes like a super intense version of a red berry candy, which makes sense, as this chew is a deep red that's nearly maroon. I think the berry is cherry, since I think that's what's pictured on the wrapper.
The conclusion?
Overall, I enjoyed these flavors, though I felt cheated by the Hey Mango-rena! Hey Mars, just making it mango-colored isn't enough. You're supposed to make it taste like mango too! Regardless, Starburst Retro is still an OMG for me.
Summary
Reviewer
Review Date
Reviewed Item
Author Rating