Did your partner surprise you with a multifunctional cooking gadget that includes both the functions of an air fryer and a pressure cooker? And now you are getting puzzled about using this incredible ninja cooking system! Right? Most households face this situation as most of these kitchen gadgets are bought from provocation and gather dust somewhere in the corner of the kitchen cabinet. Here, we will discuss the top Ninja foodi recipes you can try in this gadget.
It is natural to get skeptical about Ninja foodi if you do not know how to use the electronic device. But once you start using this cookware, you will have to give an appraisal to your partner.
It's undoubtedly a great addition to your kitchen set-up and as big a multitasking appliance as its size. Don't let this excellent kitchen gadget go to complete waste! You can make some of the incredible Ninja Foodi recipes with this all-in-one appliance. Let's take an insight into this powerful cooking device for acquiring knowledge of its wide-ranging capabilities.
What is a Ninja Foodi?
It's pretty natural if you don't know anything about Ninja Foodi and thought about what to do with this giant device! This is because Ninja Foodi is still at its advertorial stage. That means it will take some time before making a place in every household. But, that doesn't mean you should disregard this multi-tasker.
Well, Ninja Foodi is an advanced-level kitchen device that is capable of doing several cooking functions. Starting from crisping food, air frying, steaming, cooking under pressure, roasting veggies or meats, drying up, and even slow cooking. It's versatile cookware that can completely change the concept of using multiple devices for making dishes. So imagine how convenient your kitchen time will be when you start using this single device for making bags of recipes!
Functions of Ninja Foodi
As mentioned above, Ninja Foodi is a multi-function kitchen and can help in up to 11 quick tenderizing cooking functions with the help of advanced technology. Here's a list of what you can do with this device:
Grill or roast
Pressure cook
Steam
Broil
Make yogurt
Slow cook
Saute or sear
Air fry crisp
Bake
Keep warm
Dehydrate
The magical kitchen appliances do it all. Isn't it so unique!
What makes it so unique about Ninja Foodi?
People have been getting used to Instant Pot and pressure cooker for many years – the two most common cooking devices for making everyday cooking recipes. If you are looking for its core, the food uses trapped steam at increased atmospheric pressure that helps cut down the cooking time remarkably. It's a fact that typical pressure cookers cook almost 30% faster than conventional methods of cooking. There, a Ninja Foodi can get the job done at a 70% faster rate. It means you can get your favorite dish like short ribs done at half of the usual time and don't have to wait for tasting that mouth-watering excellence in a conventional crockpot. From the modern way of cooking to get your dishes the old-fashioned way, Ninja Foodi is the best cooking appliance so far!
Besides pressure cooking, sauteing, or slow cooking, the most favorite function of this multi-tasker is nothing but the air-frying feature, which is termed as Tendercrisp by the company. Furthermore, it has been able to pass 14 levels of safety guidelines. So, this is the most helpful kitchen device you can own at the ever-growing daily hectic schedule to make some excellent food you have ever tasted.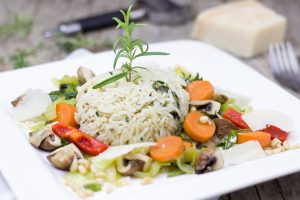 Accessories you need to make Ninja Foodi recipes
By now, you are getting ready to buy your own Ninja Foodi. As it has taken the market by storm, you can get several models available at most kitchen appliances stores. You can open up a whole new cooking world using some of the Ninja Foodi Accessories. It's pretty daunting to decide which one is worth spending and which will cost you a fortune! You can avail yourself of several accessories, including a steamer rack; kitchen tongs, springform pan, and plate gripper are some of the few items that come with every kit, which you will love!
Here is a list of some must-have accessories in making some of the fabulous Ninja Foodi recipes.
Dehydrator rack: for dehydrating vegetables and fruits, like banana or apple chips.
Baking kit: it includes a loaf pan, casserole, crisper pan, and a few small pans for making cakes and pizzas.
Silicon molds: it's great for making perfect eggs and desserts like brownies.
Silicone finger mitts: IIT total or preventing your tinder fingers from unnecessary burning.
Egg steaming rack: make a lot of perfect hard-boiled eggs at once without even a single crack.
Cookbook: this is going to help make pressure cooker recipes using the Ninja Foodi.
Glass lid: a fabulous accessory for making your cooked food warm and helps in slow cooking.
Springform pan: it's an absolute one to have for making perfect lasagna or cheesecake.
Cake tester and releaser: it comes in handy for testing whether the baking has been done right.
Stackable pan: they are best for steaming vegetables and keeping your food hot for a longer time.
What to keep in mind while shopping accessories for Ninja Foodi
Take a look at a few things to keep in mind before shopping for accessories. Any metal or aluminum pans which fit in the Ninja Foodi are great for making ninja food recipes.
Buy the only oven-safe (up to 425° F) glass for air fryer lid functions and steaming. For Quick pressure release in pressure cooking, buy pressure-rated ceramic or glass. Otherwise, there is a risk of breaking it under pressure. And you certainly don't want to hamper your dinner.
Oven-safe silicone products are fine to use in all kinds of functions related to Ninja Foodi. However, ensure that it is a lousy conductor of heat as well. It means making any ninja food recipes that need a glass or metal baking dish, and if you use silicone instead, you will probably increase the overall cooking time.
What to avoid when using Ninja Foodi?
Whenever you buy a new cooking device, you will be super excited to use it. At the same time, it's essential to research the proper way of using it. Usually, you get a manual book containing instructions with every cookware, but here are a few tips to remind you. Please go through it.
Never place your Ninja Foodi on the stovetop. If you turn on the burner by chance, you will likely melt and ruin the high-cost device completely.
Always check that you use the right amount of water or broth while utilizing the pressure cooking function. This can hugely affect the outcome of the recipe.
Stay away from spraying the inner pot with an aerosol cooking spray. It will toughen up and be hard to clean.
Always disconnect the Ninja Foodi when you are not using the device. It should be followed for all of your home appliances. Also, get unplugged into your devices after use to prevent being bumped and turned on accidentally.
Pros
It is convenient enough to use, including a neat design and easily understood buttons.
It will work counter to 2 kitchen appliances, i.e., air fryer and instant pot.
You can use it for multitasking. Just like you can pressure cook an item first and after that crisp it up. Take the whole chicken as an example, and you need to pressure cook it first to make it tenderized and then crisp it up for a crispy outlet Layer. Then, everything can stay at its place with complete cleanings.
This device is so large in a cooking capacity that it can make two things at once when you have very little time in hand.
All of the accessories that come with it are easy to clean.
There are countless accessories available in the market for Ninja Foodi that you can buy for cooking and baking several recipes.
You can go through plenty of quickly following instructions related to Ninja Foodi recipes in the Ninja Foodi Cookbook.
Cons
As a kitchen appliance, it is more expensive than buying a pressure cooker and air fryer together.
Even if it can make double work in less time, it can take up ample space in your kitchen.
You must have extra storage somewhere in the kitchen for keeping the adjustable wire rack and instant pot lid.
This device cannot air circulation all around the sides; it takes a bit longer (a few minutes) to cook food in the tender-crisp air fryer.
Direction to use
Choose your recipe.
Incorporate all the required ingredients.
Prepare your most awaited Ninja Foodi dish in a mere 30 minutes or less time.
What Ninja Foodi recipes can you make?
This is no doubt the most exciting part of this exclusive content! There are tons of recipes that you can make in Ninja Foodi. But, here are a very few ideas to help you started:
Popcorn – make amazing tasty popcorn in Ninja Foodi is a super-easy way.
Chicken roast – roast an entire chicken, then crisp up outside and make the gravy in the same container in a fraction of seconds.
Baked macaroni - first, pressure cook the macaroni noodles and then air fry with cheese to get the tastiest baked macaroni in one pot.
Ninja Foodi Rice – serve your family delicious long fluffy rice with less effort.
Veggies: Steam, roast, or saute your favorite vegetables, including broccoli, carrots, cauliflower, sprouts, radishes, Brussel, or anything as you wish.
Bacon: You can make delicious and crispy air-fried bacon in Ninja Foodi within 15 minutes.
Asian Sticky Wings- make the best-fried wings without a single drop of oil.
Sweet fried potatoes – with a dash of salt, get your perfect air-fried potatoes. No need to worry about extra grease!
Creamy risotto – get perfect risotto with ultimate flavors of garlic and parmesan every time with Ninja Foodi.
Ham – Make savory bone-In Ham with Peach Glaze.
Steak: You can grill juicy, tender dry aged steak and dive into a delicious feast.
Black beans – get your protein-packed dish in a fraction of time.
Homemade Yogurt – Try out rich, creamy Homemade Yogurt in the Ninja Foodi, far better than store-bought ones.
Beef Jerky – make homemade flavorful beef jerky instantly.
Cakes and bakes: Believe it or not, it is up to you. But, with Ninja Foodi, you can bake all kinds of delicious desserts, including bread and biscuits, right away.
By now, you are more or less aware of the importance of having Ninja Foodi in your kitchen. Get the crispiest chicken wings you have ever eaten!! Indeed, different flavored wings are one of the most fabulous things to make in Ninja Foodi!! Even if you are a newbie using the Ninja Foodi, multiple easy recipes are available on the internet or cookbooks to pull off. Ensure to follow the recipes as instructed every single time. Cook each food in an ideal function for getting the best results.
Where to buy Ninja Foodi?
Get your own Ninja Foodi if you don't have one already! In case you buy extra accessories, it will add up to your overall experience. There are several models available offline and online, and you can buy one from any appliance store. If buying online, the Ninja kitchen website or Amazon will be the best option to shop.
Is the Ninja Foodi all worth the price?
First of all, make it clear that the food doesn't come cheap — the retail price for each set is approximately $249.99. So, what do you think is worth it? If you're ready to use it regularly, then it's all yours. On the other hand, it will be beneficial if you are interested in multi-cooking and air frying. This one and the only appliance can do all the job you have to do with different cookware.
Should you buy it?
If you want an expert opinion, then the answer is a YES! Before purchasing the Ninja Foodi, ensure that you use both an instant pot and air fryer regularly. And have to clean them separately. Ninja Foodi makes your cooking experience as healthy as possible. Besides, it makes your cooking time faster and enjoyable. So if you are ready to invest $200 in a kitchen appliance and cut down your kitchen time, then go for it!
Final thoughts
The more you use a Ninja Foodi, the more you will get out of it. The pressure cooking function saves a lot of your valuable time without sacrificing the taste! And frying up several dishes in half of the oil is the bliss of using it. Yes, it's a gigantic kitchen appliance, but if you have enough storage space, considers yourself fortunate to include the Ninja Foodi in your kitchen collection.