Are you questioning yourself is high fiber cereal good for you or not? Well, when you think about starting your day, high fiber foods are the best option. They are straightforward to make and conveniently provides you with the perfect nutrients your body requires to start the day. So, we have come up with the best DIY cereals that'll contain no added sugars, preservatives, and many more harmful ingredients. All the cereal options below will contain natural ingredients that are beneficial for your health. Also, with several cereal ideas below, you can try out a new one each morning. So, aren't you excited to know what the best high fiber cereals are? Hang in there to get some exciting cereal ideas to have a new breakfast every day!
High Fiber Cereal 
Breakfast is the most important meal of the day. And it is equally essential that your breakfast is supplied adequately with the right amount of nutrients. More so, the packaged cereals mostly contain added sugars, preservatives, and many more harmful ingredients that are injurious to your health.
So, we have got some cereal options that provide you with a significant amount of fiber and other nutrients. 
Let's not wait anymore to find out what the attractive high fiber cereal options are. Here are the following:
Oats
Oats is one of the best high fiber cereal options. Usually, they come in the crushed or rolled form and can be either eaten in the form of porridge or oatmeal. 
It would be best you know that oats are whole grains that contain a high amount of nutrients, including a massive amount of fiber. With around half a cup of oats, you're getting four grams of fiber content, 18% phosphorus, 16% zinc, and 68% of manganese your body requires daily to function properly.  
Alongside this, you also get a fair amount of iron, magnesium, and all B vitamins. You might find a lot of ready-to-eat oat options at the store that'll only require you to pour hot water in it. But it's best you always make your oatmeal at home. That's because the store-bought packs might have preservatives and added amounts of artificial sugar. 
You can try out different recipes of oats and stir your tastebuds each morning. It is a versatile ingredient that can be prepared in various ways. One of the simplest ways to consume is by boiling oats in milk or water with a dash of nuts, cinnamon, and freshly chopped fruits on the top. 
A recent favorite is the overnight oats. To make it, all you need to do is soak the oats with a layer of milk and yogurt with some nuts sprinkled on the top. You can make it in the morning and consume it for breakfast the next day!
Homemade Muesli
If you're looking for fiber-rich foods, then surely muesli must make it to the diet list. It's exceptionally delicious, containing a fair amount of dried fruits, seeds, nuts, and rolled oats. 
You can compare the muesli a lot with granola, but the only difference is that muesli is eaten raw, and granola is baked. More so, muesli usually doesn't contain any sweetener or added oils in it. 
You already know that whole grains, seeds, and nuts individually is an excellent source of fiber, protein, minerals, and vitamins. So, it is very evident that muesli containing a combination of all three is a power-packed source of all the essential nutrients. 
But if you're looking for a high fiber cereal for weight loss, try replacing the grains with coconut flakes and mix them with raisins and nuts. Your low-carb cereal will be ready!
DIY Granola
When you're thinking of breakfast cereal, how can you miss out on granola? It is incredibly healthy, which has a combination of dried fruits, nut, and rolled oats but is baked for a nice crunchy feel. 
Granola can provide you with fiber, proteins, minerals, and healthy fats that are good for you. Alongside this, it gives you a fair amount of all B vitamins, phosphorus, manganese, and magnesium. 
But remember to make your granola at home to avoid added refined sugars and many more harmful ingredients. However, it would help if you kept in mind that granola is completely filled with calories. And if you're looking for a high fiber cereal for weight loss, granola may not be the best option. 
With one cup of granola, which is approximately 122 grams, you are getting almost 600 calories. This amount of calorie intake is not ideal when on a weight loss regime. But the supply of nutrients it provides is marvelous. 
So, always remember to consume granola in moderate amounts to avoid excessive calorie intake. The ideal consumption unit should be around 85 grams, which is right for you.
Homemade Cinnamon Crunchy Cereal
You'll find several options mentioning 'cinnamon crunch' on the pack when looking at the cereal section aisle. But most of them contain a lot of added sugars that can bring up your blood sugar levels, further leading to other health complications. 
So, why not try out making them at home? To make a cinnamon crunch cereal at home, all you need is some cinnamon, of course, hemp seeds, coconut oil, flaxseeds, and apple juice. 
Each cereal serving will provide you with 5 grams of protein that'll keep you full for a long time with a deficient supply of carbs in comparison to several bowls of cereal bought at the store. 
Your homemade cinnamon crunch cereal contains about 3 grams of carbs with many fiber content and other nutrients.
DIY Whole Grain Cereal 
You can try out a whole-grain cereal meal to supply yourself with lots of fiber, protein, and more. To make this cereal, you mainly require seven kinds of whole grains. Some of which are rye, oats, wheat, triticale, buckwheat, barley, and brown rice.
You can supply yourself with seven grams of fiber with only half a cup of whole-grain cereal. 
Alongside, you're getting a significant amount of all B vitamins, potassium, zinc, magnesium, and protein too. You can consume this cereal to keep yourself full for a long time to avoid any frequent cravings. Also, this is an excellent option if you're thinking about losing weight.
Grape-Nuts Cereal 
Grape nuts made its way to the high fiber cereal 2020 list. It contains ingredients like malted barley flour, whole-grain wheat flour, dried yeast, and salt. 
By consuming only half a cup of grape nuts, you're getting seven grams of fiber with many more nutrients. Some of the nutrients grape nuts supply are copper, zinc, magnesium, iron, and B vitamins. 
You can also try swapping wheat flour with coconut or almond flour to lower the calorie intake.
Sprouted Grain Cereal
The sprouted grain cereals are made out of whole-grains in the sprouted form. This is one of the best high fiber cereal for constipation as the sprouted form of whole-grains are easy to digest. 
More so, it has a higher content of nutrients than the whole-grains that are not sprouted. 
By consuming half a cup of sprouted whole-grains, you will get 23% of fiber that your body requires daily. Also, you will provide yourself with 8 grams of protein, which is beneficial for you. 
Sprouted whole-grains contain a significant amount of potassium too, which helps in keeping your heart healthy. 
DIY Superfood Cereal
You can make your superfood cereal at home using some easy ingredients that are probably lying in your kitchen. 
Toss in some buckwheat, chia seeds, and hemp seeds to provide yourself with a fair amount of fiber and protein both. 
Since chia seeds can supply with many omega-3 fatty acids, your brain health can improve significantly. More so, it can also help in reducing inflammation. You can even add in some apple juice and cinnamon for flavor. So, you're not getting any added sugar yet providing yourself with nutrients of cinnamon and apple.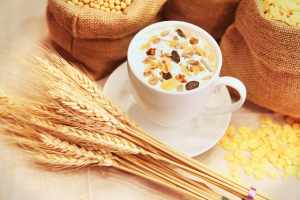 Cauliflower Oatmeal
Cauliflower has turned into a superfood recently. It has replaced the use of rice and wheat marvelously. More so, cauliflower has made its way successfully to pizza crusts, rice, and cereal too. 
So, why not try your hands-on the cauliflower oats? Since it contains cauliflower rice and eggs, you can add your ingredients and make a new recipe each day. More so, it has a delicious taste with the texture and flavor that regular oatmeal gives you. 
Also, if you're looking for a high fiber cereal for weight, cauliflower oatmeal, it is! One cup of regular oatmeal supplies you with eleven times more the number of carbs than cauliflower oatmeal. 
Besides, it supplies you with several antioxidants and other nutrients that are beneficial for your health too.
Homemade Peanut Butter Puffs 
Making your DIY peanut butter puffs are a much healthier option than the ones bought at the store. 
All you need to do is make a dough with cocoa powder, almond flour, coconut oil, and of course, peanut butter. Then make small balls of them and then bake them in an oven. 
You can even try out using almond flour instead of wheat flour to lower the carb intake. That's because in an ounce of wheat flour, you're getting around 20 grams of carbs, whereas almond flour supplies only six grams of carbs. With a significant supply of healthy fats, proteins, minerals, and vitamins, the peanut butter puffs are a perfect cereal choice. 
Although it is high in nutrients and supplies you with high amounts of fiber content, you must keep an eye on your portions. Even though almond flour is lower than wheat flour in calories, it is still a high-calorie food.
Homemade Chia Flax Cereal
There is nothing healthier than eating homemade cereal. The ingredients to make this cereal are extremely simple, and the recipe is easy to make too. 
All you'll require is some chia seeds, flaxseeds, coconut oil, cinnamon, and sweetener if you desire. Make a dough using all these ingredients and then cut them into small cubes. Allow them to bake and eat them as cereal each morning. 
Since this cereal contains chia and flax seeds, you will be supplying your body with a fair amount of omega-3 fatty acids. Alongside you will also get proteins and many more nutrients like manganese, magnesium, and phosphorus.
How to Choose the Best Cereal? 
Now that you have so many high fiber cereal options, it won't be challenging to make a new breakfast every morning. But here we have got some quick tips that'll help you choose which is the best cereal to start your day. Here are the following tips to start your day with the best cereal: 
Check the sugar intake
It's always best to limit your sugar intake in your breakfast to about 10grams or less. Otherwise, your breakfast might serve as your dessert. So, always keep a check of how much sugar you're consuming in your breakfast daily.
Consume fibers
You need to start your day with a significant supply of fibers. That's because it can keep you full and energetic to start your day. Also, it will help you in digestion and regulate your body well. It is advisable to consume a minimum of 3 grams of fiber in your breakfast daily. 
Boost with protein
Alongside providing yourself with fibers, your breakfast should contain proteins as well. That's because it can keep you full until lunchtime and stop any frequent cravings you might have between breakfast and lunch. Supplying yourself with five grams of proteins at breakfast is ideal. 
Eat an adequate portion 
You should keep in mind the portion you consume. Overeating or eating less might result in either a higher calorie intake or lower nutrient consumption, which might be harmful to you. So, always keep in mind the amount of serving you eat. A cup of cereals with some nuts and chopped fruits is ideal for keeping yourself full until lunch. 
Final Thoughts 
As you have a platter of high fiber cereal options, trying a new one each day would be easy. But remember to keep in mind the tips while consuming cereals to avoid an excessive calorie intake. 
Supply yourself with the correct amount of nutrients is always the key to keep yourself healthy and fit. So, try out all these DIY cereal ideas and let us know how they turned out in the comment section below.