One of the best comfort foods from which we can benefit at any time is Mrs Darlington?s Jam. You can have it with your oatmeal or on your rice pudding. The classic way is to just spread it unevenly on your toast and enjoy it as you watch Netflix. Keep reading to find about the best Jam Flavors For 2020.
For those of you who are not familiar with this delicious delight that you are missing out on, the jam is a food made from boiling fruit and sugar to a thick consistency. This definition is according to Merriam-Webster.?
Did you know that there are so many recipes out there that you can make with jam? Of course you can spread it on your morning toast but the other possibilities are actually endless.?
Here are some ideas to help you get better acquainted with jams.?
5 more ways that you can use jam?
1. You can add it to any cocktail.
A simple dosage will do but will make all the difference.
2. Use it as a topper for your dessert.
You can add it to your cupcake, your panna cotta, ice cream, and even to your cookies.?
3. Add jam to your french toast to add a different twist on it
Not sure how to do this? First you simply start off with your bread and put jam between them with challah, brioche, cheese, and any other ingredient that you like. Next, you will have to soak the bread in eggs and milk before finally frying it on butter. The more the jam, the merrier.?
4. Add it to your salad dressing
As? jams are typically sweet, they will help balance the sourness of your vinaigrette on your salad dressing. This perfect combination will surely be a hit at your next dinner party.?
5. Mix it with your barbecue sauce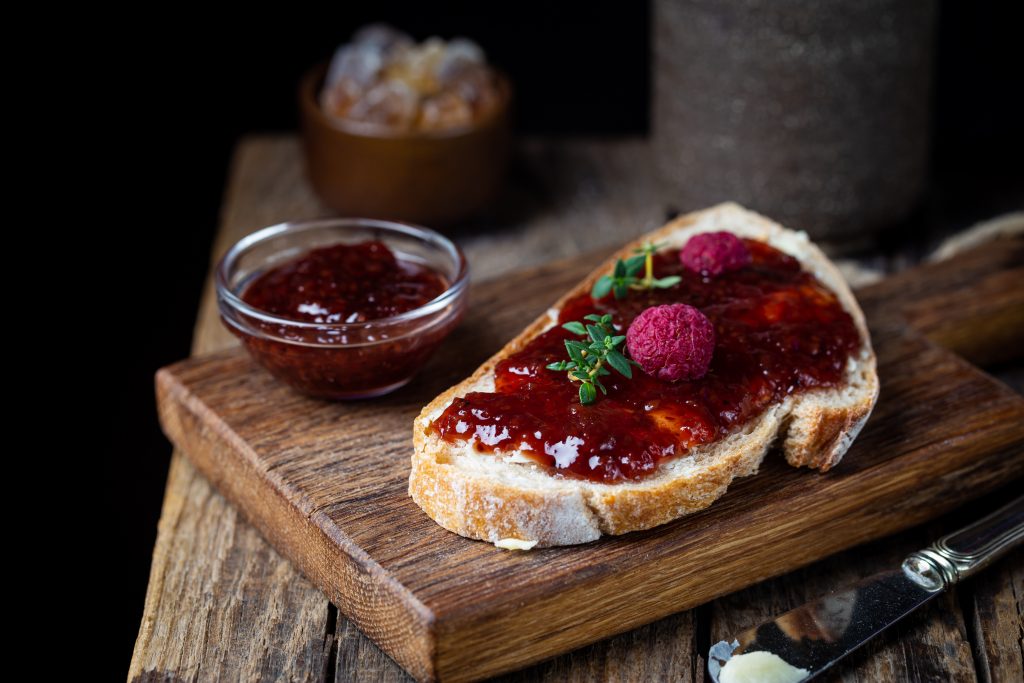 Jams can be your secret recipe to a tasty, sweet, and savory barbecue sauce that will not fail you. Simply mix in your jam with any store-bought barbecue sauce or even your own DIY sauce and glaze it over your slow-cooked meat.?
Now that we have an idea of all the ways that we can incorporate jams in our food, let us now take a look at the best jam flavors that you can start with this 2020.?
Best Jam Flavors of 2020
1. The Classic Grape Jelly
The classic grape jelly jam is organic, low-sugar, and non-GMO. Famous among all its counterparts, this jam is thick and naturally sweet. This one is the most famous counterpart of the similarly classic peanut and jam sandwich as well.?
2. Strawberry Jam
The strawberry jam is usually made up of just three simple ingredients which are strawberries, sugar, and lemon juice. Due to its sweetness, it will taste great alongside toast that is kind of on the salty side and or even with yogurt too!
3. Raspberry Jam
With Raspberry jam you can go with the classic or with the seedless. Best with doughnuts, seedless raspberry jam is the way to go. Many people love the raspberry jam because it appears punchy but also has a berry flavor. Some prefer this on their morning toast over the others.
4. Blackberry Jam
Another one to add to this list of classics, the blackberry jam is a household name as it has been around for so long. You can prepare this jam in just 5 minutes since it?s so easy and you will simply need blackberries, sugar, lemon juice, and lemon zest.?
5. Rhubarb Jam
The tricky thing about this jam is that Rhubarb comes and goes with seasons. This is why you should always take advantage of it when it?s in season! Usually, rhubarb has a sour and bitter flavor. An extra serving of sugar is definitely needed for this one. Sometimes it is paired with strawberries to balance its flavor.
Benefits of Jams
Besides enjoying its flavor jams also have additional benefits that you should know about. First and foremost, you are consuming a healthy alternative or addition as opposed to simple butter n toast. Fruits in your food contribute to your overall health and nutrition. Since you're also consuming fruits, you should know that you are also consuming vitamins, antioxidants, and amino acids. If you are not a fan of raw fruits then jam might help get you through some days. Healthy doesn?t always need to come from hard-to-swallow foods! Sometimes, it can come from a delicious jar of jam!
Conclusion
There are simply a number of jams that you should try. However, if you are a beginner you can start with the tried and tested basics like the grape jelly, strawberry, raspberry, blackberry, and rhubarb jam. So go on! Get your jam fix now!