Almost all of us want to maintain a figure that makes us look slim. So, donít you question yourself every time you munch on any snack? Does the carbohydrate content in your snack worry you? Are you running short on what to eat every time youíre hungry? Why worry when you have us! Here weíll give you some tasty, healthy, and most importantly low carb snacks to munch on whenever youíre hungry. But before that, let's check out what a low carb diet is all about?
What is a Low-Carb Diet?
A low-carb diet is basically a diet that cuts off your consumption of carbohydrates. Some of the high starch content foods are grains, potatoes, certain fruits, and veggies. You need to emphasize more on having proteins, healthy fats, leafy greens, and vegetables that have no starch content when youíre on a low-carb diet.
You must be aware by now that a low-carb diet is followed by numerous people who want to lose weight. But do you know that in a low-carb diet you can even reduce the chances of metabolic syndrome and type 2 diabetes? Here, youíll find some low carb snacks for diabetics patients.
How does a Low-Carb Diet work?
Carbohydrates or carbs give your body energy. But the body doesnít use it as soon as you consume the carbs. Your body stores these carbohydrates to use later. But if you consume high levels of carbs regularly, it will eventually get stored, which further turns into fat. So, keeping this in mind, the whole idea of going on a low carb diet is, using the stored carbs. This will eventually allow your body to lose weight. Now that you know how the process works, arenít you eager to know what the low-carb diet recipes are? Scroll down and we will definitely not disappoint you at all.
Low carb snacks recipes
Now you know what a low-carb diet is and how well it works in your body. So, its time you know what all about the low carb snacks. Which are:
Cheese and Apples
How about sweet low carb snacks? You take a cup full of sliced apples and mix it with some mozzarella cheese. This is a low carb snack, which has only about 10 grams of carbohydrates in it. Itís also a great combination of fiber, protein, and fat. Youíll be full for quite some time after you munch on this snack.
Avocado with a Crispy Twist
For this crispy twist, you first need a ripe avocado and some rye crisps. Mash the avocado so that it comes to about ľ cup, then spread it out evenly on those rye crisps. It'll taste nice, creamy, and yet crunchy. You will feel this snack to be more like an open mini sandwich. It has around 17.3 grams of carbs with some healthy fats and fiber in it too.
Cucumbers and Yogurt
If you love yogurt, youíre definitely going to love this lip-smacking low-carb snack. First, youíll require a cup of plain Greek yogurt but it has to be low- fat. Then youíll have to whip it smooth with a whipper. Now take a few cucumber strips and dip it into the smooth yogurt. Youíll find it to be quite similar to the popular Greek serving, tzatziki. This snack will give you a good amount of protein. It only has around 10 grams of carbs in it.
Grapes coated with Goat-Cheese
You might not like the look of this truffle looking snack in the first look. But once you get a taste of it, youíll love it. The taste of this snack is also salty and sweet. To make it youíll need some grapes, goat-cheese and minced pistachios. First, youíll have to roll the washed grapes in your preferred goat cheese. Once youíve done that, coat it with the minced pistachios. There youíll have it, a lovely and healthy snack.
Daikon Radish and Guacamole
Do you not like the peppery taste of red radishes? Then you must try out the Daikon radishes, itís very mild and has a nice flavor, unlike the red ones. Youíll find them to be fresh, crispy, and sweet too. To have it as chips with the Guacamole, youíll have to slice them up thinly. Itís quite nice to have these with some fresh-made guacamole. You can even just move away from your tortilla chips, once youíve tasted these ones. Moreover, youíll get a good amount of iron, magnesium, calcium, and vitamin C too.
Pickled Avocado
You can do so much with avocados! But pickled avocado was one of the low carb snacks keto diet had. To make it, youíll have to place the avocado slices in a vinegar solution for pickling. By doing this, youíll enhance the taste of avocado and make it an incredible craving snack.
Peanut Butter and Jelly Snacks
If you love peanut butter and strawberries then youíll love these mini sandwiches just by their look. The taste of these is heavenly and you need to thank Wicked Stuffed for this unique relishing recipe.
To make these small sandwiches, you need to swap the bread with bananas slices. Then, the slices of strawberry need to replace with jelly, and how can you leave your favorite peanut butter. You need to arrange them in layers and eat them as a small mouth-watering sandwich. Doesnít it sound relishing?
Granola Bars
Are you wondering how can you make granola bars without carbs? Yes, these are low-carb granola bars.
Youíll have to make them with coconut flakes, seeds, and nuts. We can assure you that youíll really love these ones better than the ones having grains.
Cucumber Herbed Celery Salad
This extremely low carb salad is a life-saver to your unbearable hungry. Chop some cucumbers, celery, and freshly plucked herbs. Toss them into a salad bowl and add a little dressing of your choice. Itís really filling and youíll enjoy the flavors of greens in this salad.
Zucchini Slices with Tofu Spread
Donít you want to taste some lovely tofu spread? You have to make this spread with mashed tofu, basil, olive oil, and garlic. Mix it into a lovely smooth paste. You can easily use this paste over a number of veggies of your choice. But you must try it out with thin slices of zucchini. We bet youíll forget your noodle lasagna if youíve had this once.
Pecans
If you have ever had pecans then youíll love it for the buttery and rich taste. Even when they are roasted, mixed with herbs and salt or raw, pecans are yummy. The fats in them are very good for you with a good portion of vitamin E and proteins too.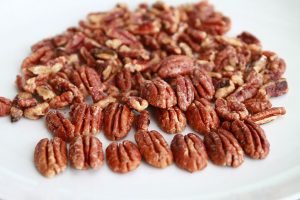 Baked Cocoa Nuts
The baked cocoa nuts are spicy and sweet, both at the same time. You can be sure enough to forget about your chocolates and candies when you have these. Youíll have to make them with egg whites, butter, and cocoa. This is a sweet low carb snack.
Pumpkin Butter Slice
Another low carb snacks keto diet recipe is the pumpkin butter slice. It is an advised snack of the Paleo diet as well. The Pumpkin butter slice has two layers. Itís basically like a slice of chocolate or snack bar, that is low in carbs and is extremely healthy.
The first layer has sunflower see butter, pepitas, and pumpkin puree. The second layer has dark-chocolate and cream of vanilla. Youíll have placed it layer by layer on a parchment paper and let it freeze. Later you just need to cut them into slices. Donít forget to store them in an airtight jar. Eat your healthy low carb snack anytime youíre hungry!
Rosemary Crackers
Were you sure that you wouldnít find crackers while going through the low carb snacks? Then you must be in for a surprise! Yes, you can throw out the other crackers and eat the low carb rosemary crackers.
These low carb foods have chia seeds, hemp hearts, and flaxseeds in them. Itís obvious youíll need some fresh rosemary and you require eggs. Once youíve tasted these luscious crackers, youíll forget any other ones you had.
Raw Broccoli Balls
Do you smack your lips when you hear the name of broccoli? Well, then this low carb food is for you. Itís gluten-free and you donít need to bake or cook it.
You can cut the florets small and add raw cashews, organic jalapeno, organic garlic, onion, and extra-virgin olive oil. Make it into a paste. You adjust the seasonings and make them into tiny balls. If you want to keep them for the times your hungry, freeze them. You will enjoy this scrumptious snack more than your broccoli florets and dips. Let us know, once youíve tasted them.
Hummus and Green Bell Pepper
Do you know that the green bell peppers work way better the reds and yellows? Weíre sure you want to know why? The sugar content in the green one is way lesser than the colorful ones. In fact, it has much lower carbs than your pita chips. So, without giving it a second thought, dip your green bell pepper slices in hummus. Youíll enjoy the crunchy flavor these like no other.
Kale Chips
Wondering how kale would curl up to be crispy chips? Ditch those starchy potatoes and try out something new! You can always buy the ready to bake kale chips from your departmental store. Just bring a packet home, and all youíll have to do is bake it on a temperature of 350 degrees. More so, you can top it with the seasonings you like. But if you want them to be nice and crispy remove the stems. You can keep these lovely healthy low carb snacks at your desk, and munch on them while working.
Steamed Egg
A steamed egg is among the Chinese low carb foods. Itís a wondrous trick you can add to your diet. As you know that egg is piled with good amounts of proteins, steaming them makes it even healthier. It tastes a lot like rich custard when you steam it well. Also, itís something different from your usual way of having eggs.
Bake an Egg in a Bell Pepper
Do you know that you can actually bake eggs in almost any veggie you like? It is obvious that itís going to be a low carb food, and you can always have it as a snack.
If youíre eager to make this unique dish, weíll guide you. First, you need to cut the top of the bell pepper. Then, you can scrape out the seeds from inside. Further, you need to crack open an egg into it. Add some salt, pepper, and some cayenne or paprika. Then you need to bake it at a temperature of 350 degrees. But you must cook it as you like to eat eggs. Even the bell peppers will get nice and soft. Youíll get a lovely sweet juice oozing out of the baked bell peppers and salty, spicy eggs. The flavor simply just compliments each other.
Avocado Boats in Spicy Tuna
How about some spicy tuna to stir your taste buds? To make this lovely low carb snack, you need to slice open the avocado. Take out the seed from the avocado., and then open a can of tuna and pour it out in a bowl. Next, add sriracha, as much as you want. You can take a taste of it and add salt if you want. But be careful sriracha already has a high sodium content. Now, you just need to take scoops of the tuna and place it into the avocado cups. Take a fork and enjoy your spicy tuna avocado boat. This deliciously low carb snack will definitely remind you of the white sticky rice. But youíll not miss it when youíre having this.
Last Thoughts
If you were worrying about, youíre low carb snacks, weíre sure youíve got enough of them here. Try each one of these recipes and give your taste-buds a stir. All the snacks given here are healthy, low in carbs, and very tasty too. So, now that you know so many low carb recipes, go online and fill up your shopping cart. Buy these healthy ingredients and make yourself all the low carb snacks. If you enjoy making these recipes, do leave us feedback!