One of my favorite moments from last month's Sweets and Snack's Expo was the surreal Mike and Ike press conference with Nelly at the Just Born booth. Yup, that Nelly.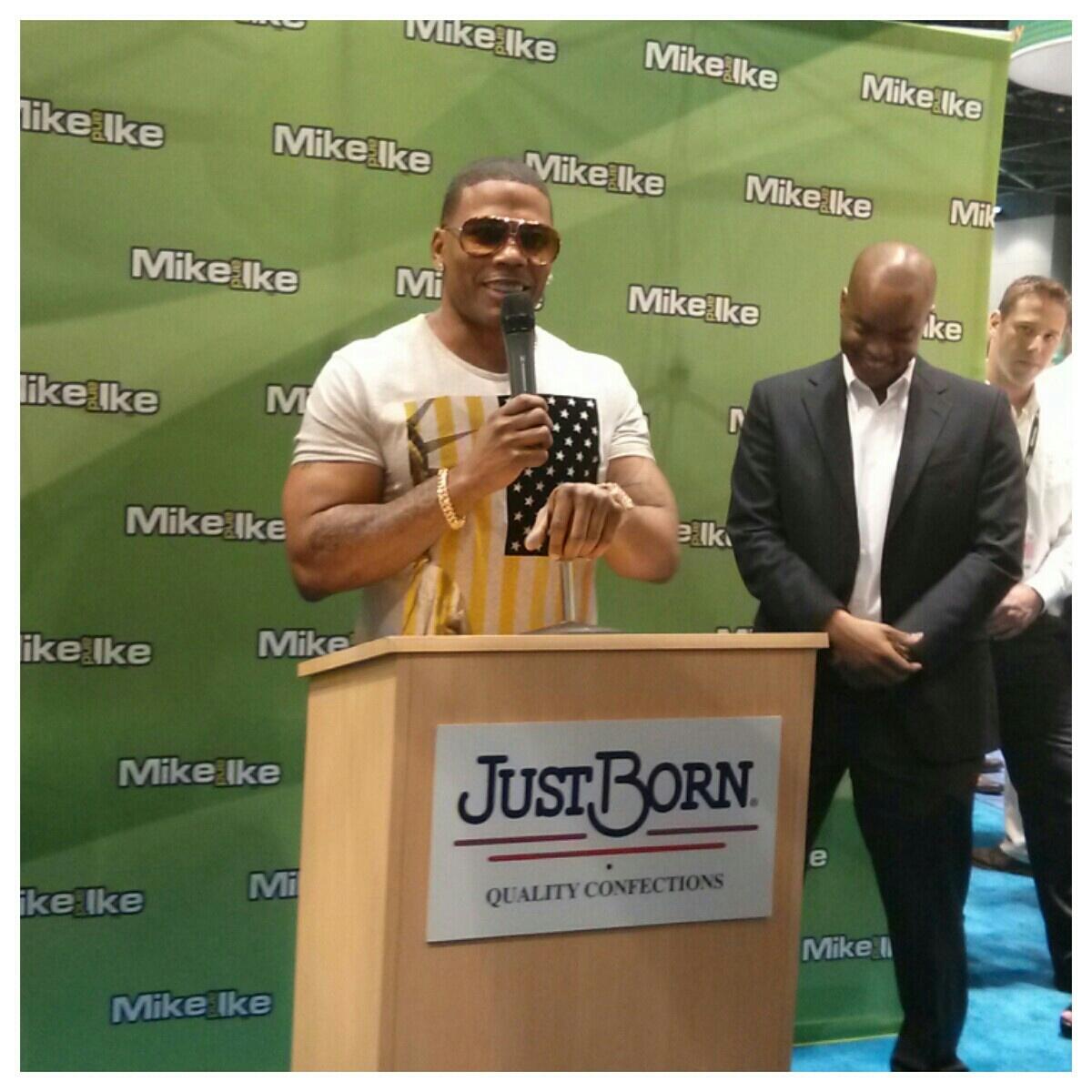 At last year's Expo, it was announced that Mike and Ike of Mike and Ike were splitting up. This year, they brought Nelly to the Expo to announce that he got them back together by talking Mike out of a music career.
There was a whole press conference in which various press people asked Nelly about his role in reuniting the candy duo. It was a little absurd, since Mike and Ike are technically not real, but Nelly was a good sport about it all. I also learned quite a bit about the philanthropic side of Nelly, which was quite impressive.
Packing from the Mike and Ike split-up.
Afterwards, I had a chance to chat with David Yale, the current president of Just Born, about the Mike and Ike press campaign. He was a really nice guy! He gave me his card, I assume for whenever I'm in the neighborhood.
David said that Mike and Ike campaign was inspired by fans asking about Mike and Ike: Who are they? What are their likes and dislikes?
From those questions, they spun a story about Mike and Ike's diverging interests and how that would lead to their break-up. Later, when it was time to start thinking about getting them back together, Just Born wanted a celebrity to lead the charge.
Nelly was chosen as the one to bring Mike and Ike together because he'd independently professed a love for Mike and Ikes in an appearance on Monique's talk show. At the press conference, Nelly told a cute story about stopping by a neighborhood gas station to stock up on the "green box", and he says he always has them on hand in his dressing room (even more so now that's he's a spokesperson, I bet!).
The campaign was a big success. As David put it, "All the numbers are up", meaning sales, social media presence, brand awareness, etc. improved over the course of the Mike and Ike split.
All in all, it was a fun event. I got to talk to Nelly! Sort of – that's the side of my head as I asked him a question about how he reconciles being a candy spokesperson with all his charity work getting kids to exercise.