A little while ago, I was delighted when Hammond's Candies offered to send me some free samples from their catalog. I was even more delighted to get some caramels and these Piggy Backs in the mail a week or so later.
The Piggy Backs were like giant, generously-sized turtles weighing in at 2.2 oz. Each was about half an inch thick and nearly the size of my palm. They were individually wrapped and sat in fluted paper cups.
Dark Chocolate Almond & Caramel: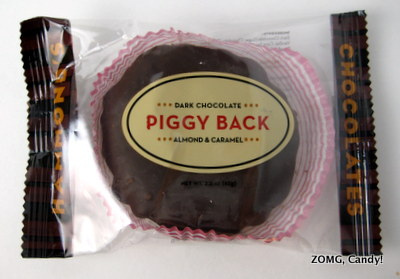 My dark chocolate version was almond and caramel, while the milk chocolate version was pecan and caramel, but the dark also comes in pecan and the milk comes in almond.
The dark chocolate almond and caramel Piggy Back was lovely! The almonds brought a great roasted nuttiness that was strong enough to stand up to the sweetness of the caramel and chocolate. They added a great textural crunch and just a slight tinge of bitterness to balance all the sugar.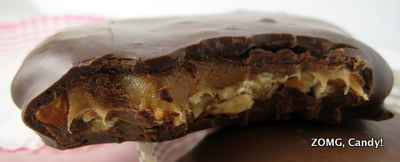 The generous layer of caramel was sticky and chewy and sweet, while the dark chocolate was on the sweet side for dark chocolate, with a smooth melt and a fruity, dusky finish. An OMG?for an awesome mix of flavors and textures.
Milk Chocolate Pecan & Caramel:
The milk chocolate pecan and caramel Piggy Back was more mild all around. Pecans are a more mild nut, and here they brought a softer crunch and a fattier nutty feel.
The lighter nut let the sweetness of the caramel come through more, and the milk chocolate had a nice caramel sweetness to it as well. I really liked this, but I liked the dark chocolate almond more, so an OM.
Summary
Reviewer
Review Date
Reviewed Item
Hammond's Piggy Back - Dark Chocolate Almond & Caramel
Author Rating