Time to awaken the creative beast inside you as the fall arrives. It's the best season to give your home an overhaul in decor because you can reflect the all the changes in the air as we transition into the second half of the year. An autumnal aesthetic makes your house feel warm to both family and friends, drawing everyone together and honoring the true spirit of the season. If you're looking for a few ideas to spark your inspiration, here are some of the best five ways to spruce up home space this season.
1. Bring the outdoors inside
The quintessential characteristic of fall is the vibrant change in leaves that burst with bright red, orange, and yellow colors. So, if you're looking for ways to spruce up home with the easiest design hack, simply look outside
Celebrate nature's splendor with a huge wreath hung on the door, artificial foliage spread across the mantle, bushels of twins or branches standing tall in the corner, and an elegant centerpiece displayed on the table. You can make one that pays homage to fall in a few quick steps:
Take a mason jar

Fill it with fake leaves

Wrap the neck with a spool of twine

Add soft string lights
You'll love the warm, ambient glow that everyone can gather around, and it's a great way to make your home look beautiful on a budget.
2. Place fresh flowers on display
Why stop with artificial plants? Go one step further and truly impress your guests with brilliant bouquets placed throughout the home. Some of the best flowers for delivery this time of year include golden sunflowers, big dahlias, and sweet alyssum. Don't forget to trim the stems and refill the water every few days to keep your flowers fresh and fragrant.
3. Arrange assorted pumpkins
As you prepare your lawn for the fall, don't forget to add decorative touches to your home's exterior. Stacks of hay setting aside a vintage wheelbarrow will create a rustic vibe anyone will admire passing by—and don't forget the pumpkins to make it a picture-perfect backdrop for a fall photoshoot!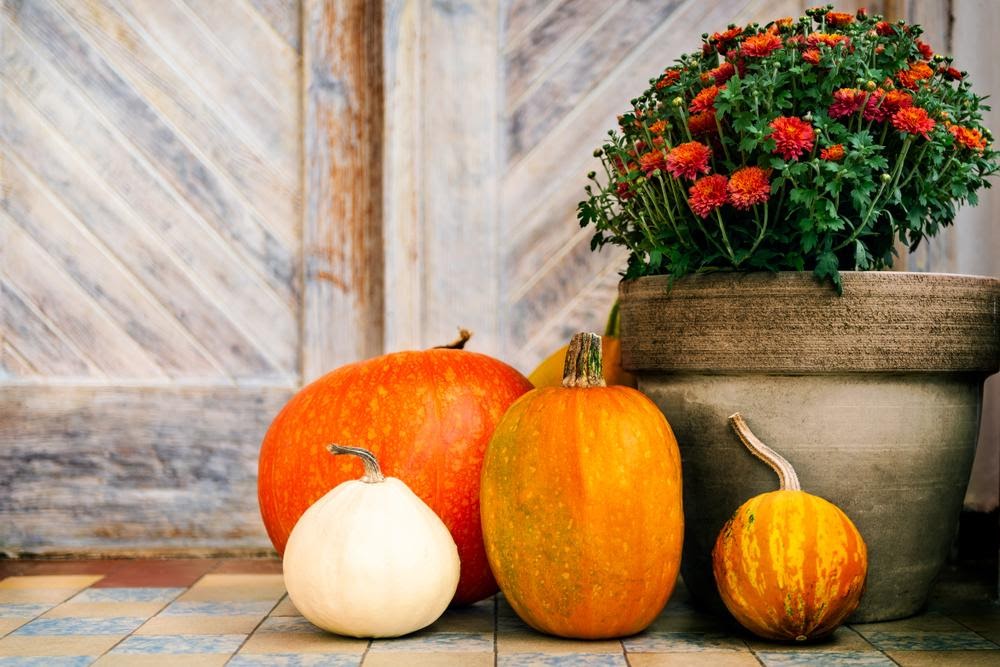 It's not autumn without an assortment of pumpkins and gourds in different sizes, shapes, colors, and textures. They look great sitting out on the porch, but you can also decorate with them indoors with real and artificial harvest varietals. A common trend you'll see around town is micro succulent gardens growing on moss at the crown of the pumpkin, but get creative with it and see what you can come up with or carve. (Of course, don't forget about all those yummy recipes that you can make afterwards!)
4. Add a farmhouse feel
Create a rustic farmhouse vibe to evoke traditional feelings of warmth and comfort. The classic route should feel cozy, but not cluttered, making you want to sit down, put your feet up, and stay for a while. You don't need to go all-out to achieve the look. Repurpose a small tartan blanket as a table cloth and add some cheap table runner, change the fabric textile of your toss pillows, and create an aura that would make anyone feel at home.
5. Candles in every corner
You don't need a grand fireplace to make your living room glow with warm light—candles are a great way to achieve the same effect. Plus, you can ignite your olfactory senses with delightful fall-themed fragrances such as:
Fresh fig

Sandalwood

Sage

Myrrh

Apple

Cinnamon

Caramel
Whether you prefer an earthy musk or sweet scent is up to you, but any of these options would help set the stage for the season. If there are kids in the house and you're concerned about the safety of an open flame, you could also go with an artificial candle and use fragrant reed diffuser to add a cozy touch in any room.
Use these five decorating ways to spruce up home for the fall and design your forever-home, then fill it with memories.