Day 1 of the Sweets and Snacks Expo is over, and I'm exhausted! I stayed up past my bedtime trying to get some science done, and then it was up again at 5AM to catch an early flight to Chicago, then straight from Midway to the Expo.
Our first stop was the Ritter Sport importer booth, as they can always be counted on for exciting new products. They've got a new Cocoa Mousse with 9 squares instead of 16 (GASP!), a coconut, and a limited edition raspberry-cranberry yogurt (not pictured here, though I have a sample. Jim reviewed on Chocolate Mission).
I love seeing all the different varieties of Ritter Sport in one place. I hate how it reminds me of what we don't have access to here in the U.S.
Caffeinated chocolate was a trend at this year's expo. The Energy version of Good Day chocolate above was one of several brands who told me that X of their candy equaled X cups of coffee or X ounces of Red Bull.
I'm going to be one jittery candy blogger once I get around to reviewing all those chocolates. The things I do for you, dear readers! Still, can't be worse than that time I ate all that sugar free chocolate…
Promotional licensing was rampant as usual (I saw Angry Birds, Fruit Ninja, and Star Wars gummies; Jelly Belly's got a new deal with Disney). Wild Ophelia, Vosges's little sister brand, has a line of Hunger Games bars that go beyond just slapping a logo and some characters on the packaging.
Instead, the flavors of the bars are supposed to line up with the different districts. The lumber district is a smoked chipotle chili bar, mining has mined salt, and transportation has runner peanuts. As a Hunger Games fan, I loved that they brought thought and wit to the tie-in.
T&H Organic Hard Candy was a new company in Innovation Alley that's already been racking up awards. This year, like last, buzzwords like organic, non-GMO, gluten-free, nut-free, etc. are popular on the show floor.
I tried a T&H blood orange hard candy, which was delicious. They have a grapefruit flavor that I can't wait to try later. Hooray grapefruit candies!
Another trend this year is miniaturized versions of well-known treats. There were mini Starbursts, mini Snickers, mini Kit Kats, mini Turtles… The list goes on and on. I think it's an easy way for brands to capitalize on name recognition when introducing a new-ish product.
This is not about candy, but I just have to share: Perky Jerky is definitely the most delicious jerky. Like last year, I'm so thankful for the salty snacks of the Expo to break up my palate fatigue and provide some protein to keep me going! I can't imagine what it was like when it was just the All Candy Expo.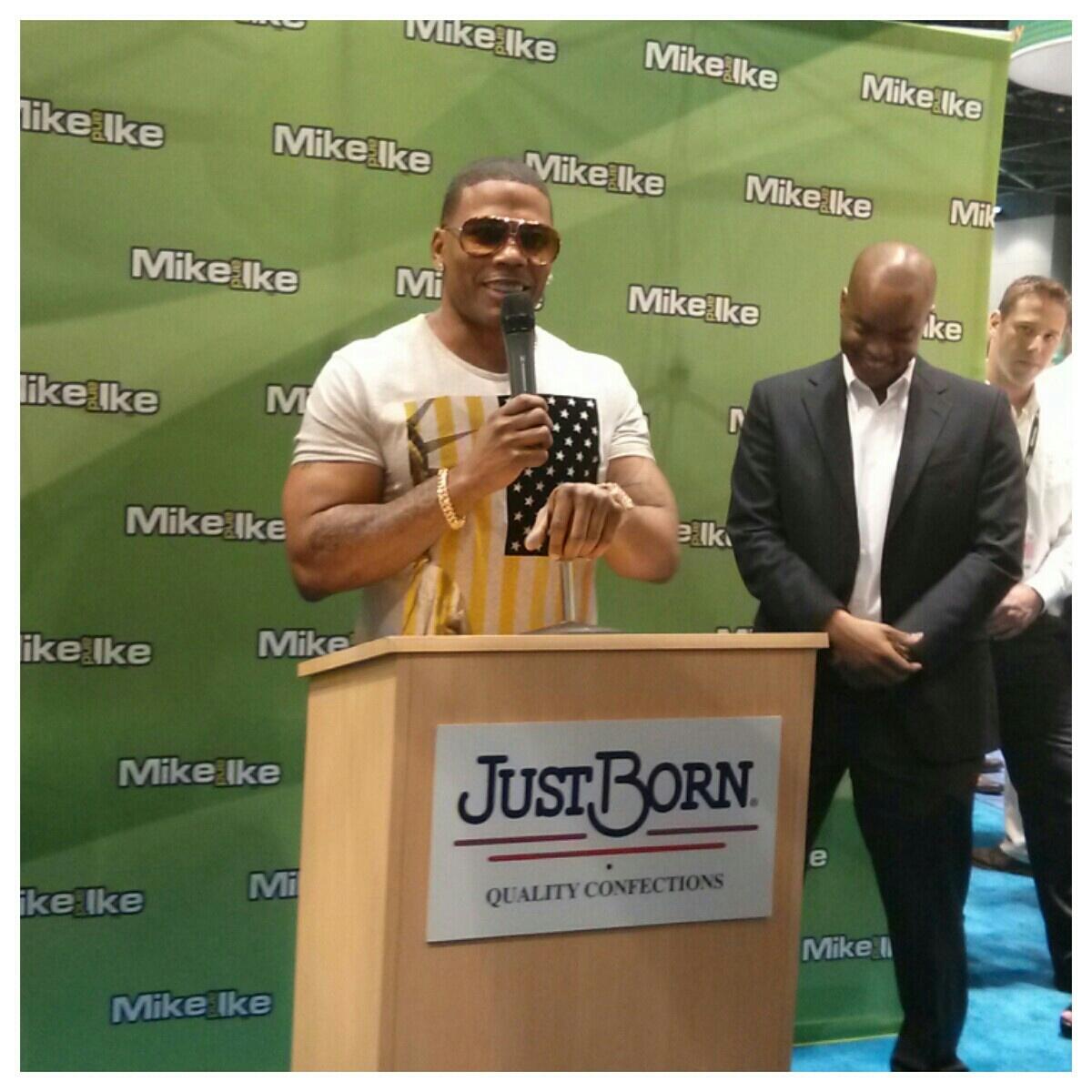 I also asked Nelly a question during the Mike & Ike press conference (alas, it was neither "wanna go a take a ride wit me?" nor "how hot is it in herre?"), held a gold medal and had a fun chat with the very friendly U.S. women's water polo team at Bare Fruit, and won a Tide pen from Airheads. Can't wait to see what tomorrow will bring!
If you missed it, Emma's been holding down the live updates on Twitter and Instagram. Check out her great camera work!