I'm not a regular coffee drinker, so when I got a Starbucks gift card for the holidays, I spent it on smoothies and candy, including this bag that was labeled "milk chocolate caramel brulee."†They were shiny and spherical chocolate-covered caramel bites!
Their size and composition were exceedingly similar to†Trader Joe's Dark Chocolate Tahitian Vanilla Caramels. Fortunately, I had half a bag of the TJ's version handy for a direct comparison.
The Starbucks version was covered in milk chocolate instead of dark, making for a sweeter treat. The caramel center had a distinct rummy butterscotch note and just a hint of salt to the end.
The Trader Joe's dark chocolate ones tasted sweeter and fruitier by comparison. The TJ's also had a stiffer chew; Starbucks' version was softer, chewier, and stickier.
I enjoyed the butterscotch note in the Starbucks caramels, but I found that the milk chocolate coating made it too sweet altogether. A mashup of the Trader Joe's chocolate and Starbucks's caramel center would be great.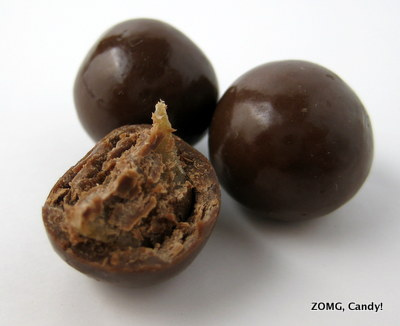 As is, it's not a bad treat; just too sweet. Also, the bag was annoying to open and reclose in a way to save the rest for later. An O.
I think Gigi reviewed an earlier incarnation of these when they were called milk chocolate burnt caramels.
Summary
Reviewer
Review Date
Reviewed Item
Starbucks Milk Chocolate Caramel Brulee
Author Rating