Skittles Darkside are a new addition to the Skittles line. They've apparently been around since January, when Cybele reviewed them on Candy Blog, though I only caught them recently at a gas station pit stop.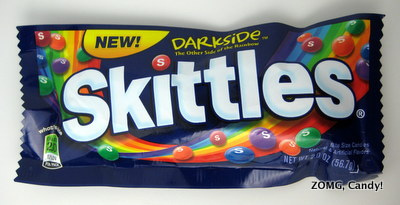 The tagline for Skittles Darkside?is "the other side of the rainbow". The flavors were Dark Berry (purple), Pomegranate (red), Forbidden Fruit (blue), Midnight Lime (green), and Blood Orange (orange).
Skittles Darkside flavors:
Dark Berry tasted like generic berry candies with a slight seedy undertone. They reminded me more of the UK's purple Skittles, which are supposed to be blackcurrant flavored.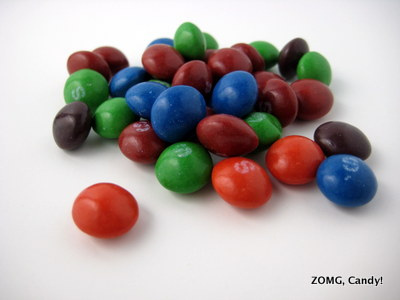 Pomegranate was seedy to start with a tinge of pomegranate/cranberry juice flavor. It lacked any bitterness or tannic flavors that I'd associate with true pomegranates.
I have no idea what Forbidden Fruit was trying to be. It had a strong perfumey floral flavor, with a start that was almost bubblegummy.
Midnight Lime was zesty to start. It tasted like a darker version of the lime that used to be part of the regular Skittles line-up but lacked the regular lime's brightly acidic tartness.
Finally, Blood Orange had a great zesty orange depth but was far darker than the regular Skittles's bright orange. Instead, it had a darker, juicier finish with just a flash of tartness at the end.
The conclusion?
I felt pretty meh about these. I think the Blood Orange was the only that I really enjoyed. The others were okay but not outstanding. An O.
Summary
Reviewer
Review Date
Reviewed Item
Author Rating