Today I've got two more treats that I picked up in Pittsburgh from local candy maker Sarris Candies: Pecan Truffle and Cashew Meltaway.
First up: Sarris Candies Pecan Truffle
The packaging on the Pecan Truffle was misleading. The image on the package showed a prettily striped square truffle treat, similar to the S'mores bar that I reviewed last week.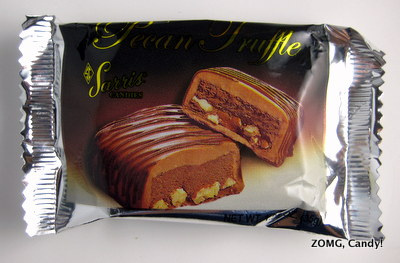 Instead, the chocolate bar within was just a plain rectangle, though its top was prettily wavy. The cross-section wasn't quite so chock full of nuts either.
The bar had a milk chocolate shell that was thickly creamy and quite sweet. Inside that shell was a top layer of dark chocolate truffle filling. While the truffle filling was also thick and creamy, it was softer and had a fatty feel as it melted.
Finally, there was some itty bitty pieces of pecans below the dark truffle filling. I found their taste to be on the raw side and would've preferred a roastier nut. Because I wanted more nuttiness from something that was supposed to feature pecans so prominently, an O.
Next up… Sarris Candies Cashew Meltaway
The Cashew Meltaway had a minimalist silver wrapper with text but no pictures. Inside, the Cashew Meltaway bar looked pretty much like the Pecan Truffle – a rectangle with a wavy textured top.
Like the Pecan Truffle, this had a milk chocolate shell. Unlike the Pecan Truffle, however, the truffle filling inside the Cashew Meltaway was also milk chocolate.
I thought the truffled milk chocolate tasted more caramelly with some vanilla undertones as well. It was sweet and creamy, like the milk chocolate shell, but softer in texture.
The cashew bits were sharply crunchy and added a hint of nuttiness. I liked their nuttiness more than the under-flavored pecans.
Though this won points for being nuttier, it lost points for being too sweet after more than a couple of bites. After a while, it made my throat burn. An O.
Summary
Reviewer
Review Date
Reviewed Item
Sarris Candies Pecan Truffle + Cashew Meltaway
Author Rating