I received these Haribo Nappar Fruit as a gift from a friend who got them from Europe. Instead of one big bag, I got several tiny bags that reminded me of fruit snacks bags.
Haribo is pretty good at putting?unintentionally?hilarious mascots on its products. Remember Maoam? The Nappar Fruit mascots are just high-fiving, but they look a bit … prophylactic… to me.
What does "Nappar" Fruit mean?
"Nappar"?is Swedish for pacifier, so once you know that, the characters make a little more sense. That doesn't make them any less weird looking, however.
The gummies themselves looked like tiny magnifying glasses. The chew was extremely stiff, almost like gnawing on plastic. Their texture reminded me of Jujubes.
Haribo Nappar Fruit flavors:
They came in yellow, green, and orange. Or vingummi, med, and frugtsmag, as the bag says. Yum!
Yellow was lemon. It had a light zestiness with a bitter twinge of pith under an overall mild citrus fruitiness that reminded me of Sprite.
Green was pear. It wasn't very sweet and had a seedy undertone.
Orange tasted plasticky for a while before finally giving way to a sweet and mellow tinge of orange.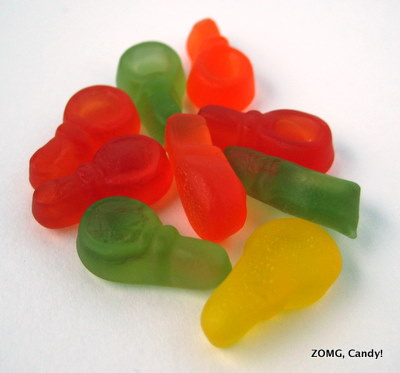 The conclusion?
I wasn't a huge fan of the extreme stiffness of the chew, but it did make the flavor last. I'll be lenient and give them an?O.
Summary
Reviewer
Review Date
Reviewed Item
Author Rating