Coconut M&M's have been out for a while, but I only just stumbled across them at a local convenience store. They had started out as a limited edition M&M, but I do believe they've now morphed into a permanent addition.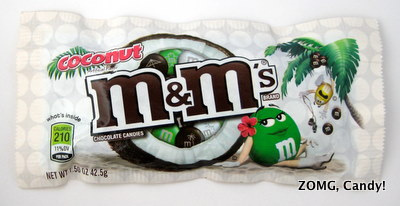 They smelled like a mix of generic quality chocolate and coconut sunscreen. The M&M's were fatter than plain ones and irregularly shaped.
They only came in three colors – green, dark brown, and white. As you can see, some of them had Ms adorned with additional tropical-themed decorations, like beach umbrellas and flowers.
The insides were solid chocolate. The chocolate was reminiscent of that of plain M&M's, so there was a tad bit of graininess to it. It was on the sweet side, with just a bit of fruitiness.
The center also had a nicely genuine coconut flavor that was pretty spot on. All in all, the whole M&M was a tad too sweet from the milk chocolate and the sugar shell, but I still enjoyed it.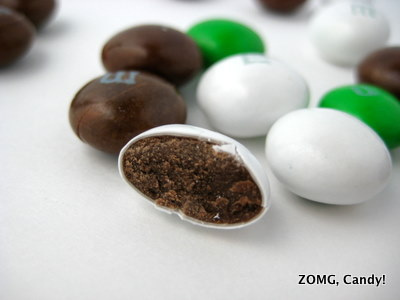 I liked Almond Joy Pieces better. AJP had more nuttiness in the center thanks to their bits of almond, their shell was crunchier, and their chocolate was darker and nuttier.
I found the Pieces better balanced, but I wouldn't turn down Coconut M&M's if they were offered to me. They get an O. I'd say they'd be good enough for an OM, but the Almond Joy Pieces got an OM, and those are definitely better.
Summary
Reviewer
Review Date
Reviewed Item
Author Rating