A List of the Best Vegan Candy
Finding vegan candy can be tough. You gotta do your research!
For one, gelatin is a common ingredient in most of your favorite gummy candy. It gives that chewy, shiny quality to most gummy bears you see, for example.
However, did you know that gelatin is an animal product? Yes, it's actually made from pigskin, cow hyde, and even some animal bones. While that certainly doesn't sound appetizing, it has become a main staple of most candies that you know and love.
With chocolate too, most candy bars contain milk. So when vegans want chocolate, they have to stick to the dark stuff, which often times can still have traces of animal products.
Luckily, vegan candy is out there and I've done the research for you! Here are some awesome gummy and chocolate candies that are free of animal products.
#10 – Zotz
A fan of hard candy? It's a great way to avoid animal products like gelatin!
The best of their kind, Zotz might be worth a look for vegans out here!
#9 – Mamba
But if chewier candies are something you're looking for, maybe it's time for Mamba!
While many think these are Starburst knock-offs, they are actually a fruity and delicious snack. Plus, you can pick and choose your flavors, while avoiding animal products.
#8 – Airheads
Really, what flavor is that white mystery? Well, for one thing that flavor doesn't contain any animal products!
None of Airheads products do in fact. They are 100% vegan and 100% delicious. Vegans who are fans of a fruity, chewy candy (that can consumed on the run) will have to give these a try.
#7 – Starburst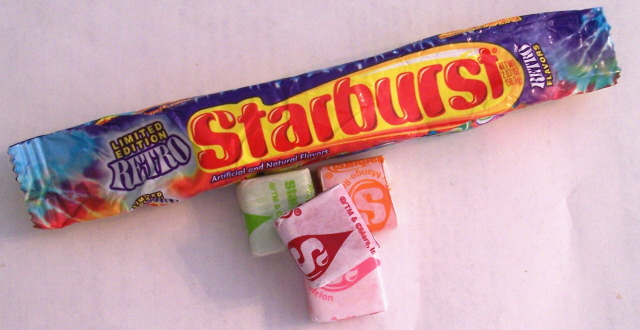 Mentioned previously, I think you will be stoked to discover that Starbursts are also vegan. Enjoy these juicy, chewy treats – knowing full well that you're making a good ethical choice while doing it!
#6 – Skittles
No candy list is really complete until you have Skittles on them. Luckily for us, Skittles are vegan so they can be on this one too.
Who doesn't love these addcitive mini candies!
#5 – Surf Sweets Worms, Gummy Bears, and Jelly Beans
If you're looking for an organic candy too, look no further than Surf Sweets.
Their suite of sweets are not only vegan, but also are made with natural flavors, colors and are certified organic. My favorite are the Super Sour Worms, but their gummy bears are great too!
#4 – Sour Patch Kids & Sour Patch Watermelon
Did you know Sour Patch Watermelon and ALL Sour Patch Kids are vegan? They kind of fly under the radar because it's not part of their marketing campaigns.
While eating "kids" doesn't sound like it would be vegan, Sour Patch's products all do not contain gelatin, which makes them free from animal products and vegan-friendly!
Already one of the best candies out there, there shouldn't be any excuses left for someone not to have tried these!
#3 – Sweetriot Chocolate
For our chocolate lovers, vegan candy bars can be REALLY hard to find. Luckily there are plenty of dark chocolate candies out there that do not contain animal products; the best (in my opinion) being Sweetriot.
They have all of which are made with no GMOs and fair trade products. Each dark chocolate product they have is 100% vegan. but they don't yet have official vegan certification. Apparently, there's the potential for cross-contamination with dairy products on the production machinery – just something to keep in mind.
It is one of the chocolates named 'accidentally vegan' by PETA in fact.
#2 – Panda Licorice
If you are into licorice, Panda is definitely the choice for you. Available in both raspberry and original (black) flavors, the ingredients are simple and of course vegan. Non-GMO, no gelatin, no preservatives, no artificial flavors or colors – this candy is certainly a guilt-free one!
#1 – Swedish Fish
Yes, I know that fish is not vegan – I believe they call those pescatarians. That being said, Swedish Fish is anall-time classic candy and has been doing it without gelatin since the 1950s. They recently gave their branding a new look, so maybe it's time you tried this delicious vegan treat again!
* Any other good vegan candy out there? Leave them in the comments, so I can try them!
Summary
Reviewer
Review Date
Reviewed Item
Author Rating