September 19th, 2014 by Rosa
I mentioned yesterday that I visited Olive & Sinclair, a Nashville bean-to-bar chocolate maker, while I was in town for a wedding. There were some chocolate truffles filled with a boozy caramel for sale – if I remember correctly, they were called Whisky Musket Balls?
At any rate, I bought one to try. It was pricey but noms!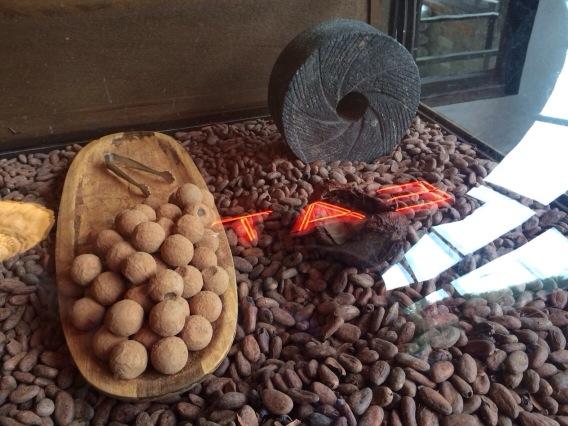 By the way, that round stone in the top right corner is for grinding cocoa beans to make chocolate. And those pebbly-looking things at the bottom are cocoa beans. The backwards EAT is a reflection of a sign that they had on the opposite wall.
This entry was posted onFriday, September 19th, 2014 at 8:00 am and is filed under news. You can follow any responses to this entry through the RSS 2.0 feed. Both comments and pings are currently closed.